The iPhone 11 launched on September 10th, 2019. This review is mostly for those who aren't technology savvy. Let's be honest, iPhone 11 is more of a meme than a phone at this point. A leap from iPhone X to iPhone 11 is that the speed of the phone has increased, although you may not notice it and it might not even impact your daily usage. Obviously upgrading a phone means they need to upgrade a lot of aspects of the new version. Despite what the internet says, iPhone 11 is not just a size bigger, but definitely better in quality as well.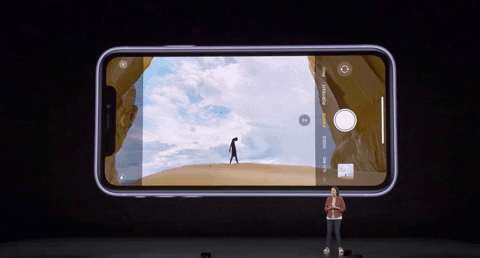 The display resolution is also better than iPhone X. In layman terms, you can see better on iPhone 11 than you did on iPhone 10.  The better the resolution, the merrier. And how can we forget the bigger size of iPhone 11. As useless as it sounds, having bigger size means they can fit more technology related things, that quite frankly you and I both don't understand.
iPhone 11 has upgraded camera, as you've seen in the memes. It takes better pictures. CNET took pictures of both and shared it here. Oh, and good news. iPhone 11 supports 4k video making. In understandable terms, it makes videos of the highest quality possible. According to more technology understanding people, the battery of iPhone 11 lasts longer. And its a plus that there are more options of colors to choose from. Although the whole iPhone 5c was a mess, this version has more subtle and 'iPhone-ish' colors. The pricing of iPhone 11 starts at $699 or $700 (lets be honest), whereas when iPhone X launches its price was $999 or to be more honest $1000. Stop sugarcoating prices, please and thank you.
Flaws
Now that I've mentioned all the good things about iPhone 11, let's talk about what doesn't work. Initially when you turn on the phone it doesn't immediately read the sim card, which is highly unusual for a phone. It might take time or you'll have to look at apple forums to make sense of the whole mess. The most disappointing thing about iPhone 11 is the bezels i.e. the part of the screen between your screens frame and border. Business insider explains it well here.
A smaller, less significant problem that I should mention is that the fast charging cable doesn't come with iPhone 11. And using iPhone X with wired headphones, I'd suggest you buy wireless headphone. It creates issues for someone who wants to use earphone and charge the phone at the same time. Wireless headphones aren't included in the packaging either. I thought I could do without them but turns out the design was made in a way that wireless headphones become a need.
Don't buy iPhone 11 if you think the whole world has bought it, or that your peers have it, or the 'in-crowd' has it. Buy it if it fits your requirements. iPhone 11 isn't a disappointment as much as I thought it would be. But neither is it so amazing that I'd say I can't live without it. If you can afford it, then go for it.
Enjoy LongBeachGriffy's video on iPhone 11:
Check our "Joker " Movie Review blog here.
Check our Blog on Long Distance Relationship here.